Impression Rubber Roller, Impression Rubber Roller Manufacturer, Impression Rubber Roller Exporter, Supplier in India
Our high-quality Impression rubber roller is exceptional for the application of the simple and principal accessory for web process control. These are excellent for the application for the reason that they offer incredible printing outcomes, have an anti-static characteristic, admirable abrasion resistance, consistent quality in addition to durable life span. These are known to offer incredible performance offering suitable hardness based on the variety of printing, and unmatched rubber roller surface finishing with no porosity.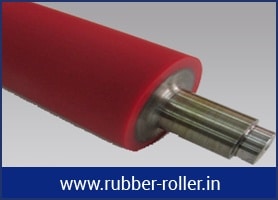 These also have excellent dimensional precision. These are quality tested and verified under diverse parameters and are absolutely flawless in quality. These require least maintenance and are offered by us to our customers at incredible rates.