Neoprene Rubber Rollers, Neoprene Rubber Rollers Manufacturer, Supplier, India
Neoprene is a synthetic rubber and is applied to make Industrial rollers. We are India's top Neoprene rubber roller manufacturer and produce them procuring high quality Neoprene material and other constituents from the best vendors of the market and employing the most advanced machineries and technology. These have excellent features as they are made in compliance to the Industrial standards. Hence these have the most outstanding features such as incredible corrosion resistance, accurate dimensions, robustness and hardness.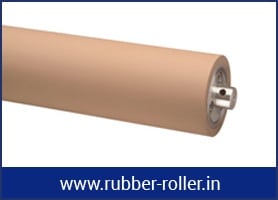 Our products are quality checked and verified to ascertain that they offer the best performance in the industries with no failure and with high reliability and good durability. We offer these Neoprene rubber rollers at industry leading price rates. We supply them all over the India such as Mumbai, Mysore, Kolkata, Pune and Coimbatore.
Features Neoprene Rubber Roller:-